MB1 Expert Electronics US Authorized Dealer. Sales and Service of MB1 and SunSDR2-PRO SDR transceivers. ColibriNANO SDR USB receiver. MB1 transceiver US-based technical support. Icom IDAS UHF trunking systems delivery and optimization. Integration of UHF analog and digital systems with WLAN and VOIP.  
                                 Add to Cart products you interested in and enjoy extra volume-based Discounts and Free Shipping!

MB1 HF 6m and 2m SDR transceiver 100W with ATU
585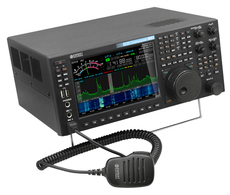 Expert Electronics
Price: 5595 USDIn stock
Ultimate MB1 Prime is available, limited edition:
- CPU - Intel® Core™ i7-6700T instead of i5
- RAM - 16 GB instead of 8 GB
- SSD - 525 GB instead of 120 GB

Additional cost $1,400. Ordering: (206)779-1011, please text your name/callsign.
This MB1 model includes internal ATU. We will have MB1 radios available at Orlando HamCation, February 9-11, 2017. Stop by our booth 308, North Hall!

Very detailed MB1 review by Mark Abraham, NI0Z SDRzone.com

MB-1 reviews: eHam.net
User Manual MB1 SDR transceiver
Your purchase includes 1 (one) hour of U.S.- based installation technical support (telephone/remote access to your PC). Addition time blocks can be purchased. Current rate is $169/hour billed in 15 minutes increments. Hardware warranty is 12 months.
Designed in Russia. Assembled in Taiwan (R.O.C)
Description
Many radio amateurs use PC with the classic analog transceiver. Connection between computer and radio requires USB cable and other interfaces . SDR MB1 transceiver elegantly solves connections problem. No more wires!

The HF 6m and 2m DUC/DDC transceiver MB1 - this is a new generation of amateur radio. Transceiver combines a classic design, accumulated over many decades, with the most advanced DUC/DDC SDR-technologies - direct conversion and synthesis of radio signals, and full-featured modern computer with a Intel Core i5 CPU. Operator receives a fully functional workstation in one box, which is started by pressing just a one button. All the peripherals connections are internal with virtual audio cables and COM ports; Simply connect second monitor, mouse, keyboard and you may control SDR radio with knobs and buttons from the transceiver's front panel.

Specifications:
ADC with sample rate 160 MHz and resolution 16 bit
Two independent receive channels with bandwidth 312 kHz
Recording of live signals of bandwidth up to 312 kHz with later replay and analyses
Receive in Nyquist zones up to 800 MHz (necessary to add external filters )
Spectrum Scope up to 80 MHz
High quality audio DAC with the precision 24 bit to minimize signal delays
Qualitative IPS 7" display with the resolution 1280x800 pixels
Connector for controlling external devices, 8 programmable transistor switches
Interface with PC – LAN 100 Mbps
AC voltage 220/110V, current consumption up to 3 Amp
Input of the external reference oscillator with the frequency 10 MHz
Small dimensions and lightweight
Two version of GUI: Desktop View and MB1
Compatable with 3rd party logging and digital modes programs
Main features
Independent receive path with Digital Direct Conversion(DDC)
Separate independent transmit path with Digital Up Conversion(DUC)
Full duplex or half duplex mode*
Two software independent receiver channels with bandwidth up to 312 kHz and two sub-receivers in each channel.
Antenna switch for two HF antennas
Connector to control external devices, 7 powerful switches with open collector
Automatic Tuner Unit for HF bands: Available as an option
ALC input for connecting external power amplifier
Four programmable PTT outputs for independent external PA control
COM port for connecting external devices (power amplifiers, rotators, external PC etc.)
Provision for additional BPF in HF front-end via RX IN and RX OUT connectors
Embedded sub-octave band pass filters
VHF transverters operation
Calibrated receiver
Signal generator (output DAC OUT)
Frequency synchronization with external 10 MHz reference oscillator
Minimal delay in CW mode (about 10 msec)
SO2R operation
Remote control. PTT foot switch and CW key are connected to E-Coder SDR-control panel. Headset and E-Coder panel are connected to local PC.
* Full duplex mode is supported by the transceiver's hardware, not implemented in the software yet. This mode will be supported in the future releases of the ExpertSDR2 software.
MB1 contains full-scale PCr based on Intel Core i5 processor, with following parameters:
Mother board thin Mini-ITX Form Factor
CPU Intel Core i5 2.8GHz
RAM 8GB
SSD disk drive, 120GB
4 USB 3.0 ports (rear panel) and 2 USB 2.0 ports at the front panel of the transceiver
HDMI and D-PORT for connecting external monitors
LAN port 1Gb

Application areas
Full-function amateur radio transceiver
Mobile contest-station
Remote receiver or transmitter* controlled over internet
Spectrum analyzer with the bandwidth up to 80MHz

Block diagram
Software
A version of ExpertSDR2 software with adapted GUI for 7" display was specially developed for the MB1 transceiver. At the present time software works in RX/TX mode and supports two independent receiving channels with the bandwidth up to 312 kHz. A DSP library developed by Expert Electronics allow to improve receiving quality and increase stability of the software. Two OS are supported: Windows 8/10 and Linux Ubuntu.

Transceiver MB1 set
Transceiver can have additional options: Automatic Tuner Unit (ATU) for matching the antennas with 50 Ohm transceivers output path, embedded WLAN unit for connecting the transceiver to LAN via wireless interface WLAN.
Basic complete set:
Note: Automatic Tuner Unit is not installed into the transceiver
LAN-cable for connection to external LAN
Power supply cable for connecting the transceiver to AC
Two audio adapters JACK 6.3 mm to JACK 3.5 mm for connecting of headset to the transceiver
CD with ExpertSDR2 software. (Software can be also downloaded from our web-site)
Maximum complete set:
Note: internal Automatic Tuner Unit is installed in the transceiver
LAN-cable for connection to external LAN
Power supply cable for connecting the transceiver to AC network
Two audio adapters JACK 6.3 mm to JACK 3.5 mm for connecting the headset to the transceiver
Latest version of Software is available at the Expert Electronics website
Recommended accessories:
In addition to main complete set following accessories available:
Computer headset EE-PH-01 with electret microphone
PTT foot switch EE-CP-02
SDR-control panel E-Coder EE-EP-01 or SDR-control panel mini kit EE-EP-02, for comfortable remote work
Specifications
| | |
| --- | --- |
| Parameter | Value |
| Receiver | |
| Receive path's construction principle | Direct conversion of radio signals |
| RF ADC clock frequency, MHz | 160 |
| RF ADC resolution, bit | 16 |
| Receiving frequencies bandwidth, MHz | 0.09 .. 65, 95 ... 148 |
| Maximum displaying spectrum width, MHz | 80 |
| Amount of independent receive channels | 2 |
| Blocking Dynamic Range (BDR), dB | 129 |
| Dynamic Range over IMD3, dB | 98 |
| MDS level, dBm | -128 |
| Image channel rejection, dB | > 110 |
| Local oscillator's stability, ppm | +/- 0.5 |
| Embedded preamplifier, dB | -20, -10, 0, +10 |
| Additional preamplifier VHF, dB | +26 |
| | |
| Transceiver | |
| Signal generation principle | Direct synthesis of radio signal |
| RF DAC clock frequency, MHz | 640 |
| RF DAC resolution, bit | 14 |
| Transmit frequencies bands | All amateur HF bands, 6m and 2m |
| Maximum output power, HF under IMD3 = -30 dB, W | 100 |
| Maximum output power VHF under IMD3 = -30 dB, W | 50 |
| | |
| Other characteristics | |
| Dimensions, mm | 320x140x250 |
| Weight, kg (lbs) | 10 (22lbs) |
| Operating Temperature range, degrees Celsius | 0...+50 |
| Power voltage range AC, V, Hz | ~100 ... 240, 50 ...60 |
| Power consumption, W | 320 |
Declaration of Conformity
FCC
The SunSDR MB1 complies with FCC Part 97 rules for the Amateur Radio Service.
Warranty:
Warranty is 12 months from factory defects and workmanship including accessories for sales after May 28.2017. For 2nd hand devices warranty transfer cost $50 one-time administrative fee.

Brand:SunSDR
Model:MB1